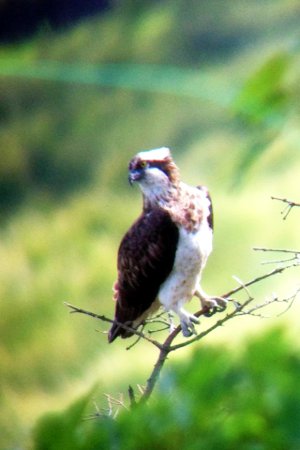 The Welsh Osprey population reached another milestone again this year, With the four breeding pairs of Ospreys producing eleven chicks, one more than 2014, and with lots more young birds seen at other nests, the next two to three years are going to be exciting times for the group. Of particular interest is how many nests have been visited by birds which we can identify through the darvic rings,


B/M nest site
The nest at this site is really doing well, The chicks at this nest: two females and a male, very big and healthy birds, the Darvic ring numbers, Blue W4 female, weight 1.83kg, Blue W5 female: 1.90kg, Blue W6 male: 1.57kg, rung by Friends of the Ospreys, under the supervision of Tony Cross, from Ruffled feathers ( Mid Wales Ringers ), who we would like to thank once again.


Blue 24
Blue 24, an Osprey on one of the nests in mid Wales, Managed to lay eggs but was unsuccessful, she mated with a bird from another nest nearby but could only manage 6 days of incubation , She then had to leave the nest to feed herself, the male bird that she mated with had his own nest, with eggs that was expecting to hatch any day, It will happen for this great bird one day, maybe next year. The pull to this nest is the male bird nearby who she knows has been successful in breeding. Clearly she is really hoping she can muscle in on that nest, being exactly what she did before that female arrived and the moment she left on migration!


5F
We also had a bird on a nest in the Glaslyn valley, a young bird 5F, From the Rutland Water Project, she spent long periods of time at the nest, occasionally seen with a mate, so the future is really positive for the local nests, and hopefully we will see her back next year with a mate,


CU2 ( Jimmy )
There was a set back with a young bird from Scotland , CU2, now known as Jimmy, Jimmy had been in the Glaslyn valley for a while prospecting for a nest of his own,and had not long moved 25 miles northeast to Hiraeth ( Denbigh ) moor area when he was found dead below a transformer on an electricity pole near Pentrefoelas, tragically electrocuted , Friends of the Ospreys are working together with the local electricity company, Scottish Power and others in a joint project set up by Operation Jimmy: (click here to read more)

We have approved sites with land owners, are are putting up three nests in this area for birds just like Jimmy. This will give them several save alternatives to electricity poles in a tree barren landscape.
The future for Welsh Ospreys is looking very positive with each passing season, We still need to carry on the work that we do, until there is a positive number of birds, We are currently looking at putting up six more nests, in North and mid Wales, in the next few months, We are also looking at creating a Facebook page, maybe in time for next years season.


Glaslyn
The nest on the Glaslyn, finally produced two chicks, after a very slow start, With the resident male not returning this year. 11/98 a bird from the translocation project in Rutland had been the established male at this nest since 2002. Unfortunately this iconic bird never returned this year. The female did manage to attract a mate and had a first good season with him, Producing two chicks. You can follow this story on their website, at BGGW Glaslyn Wildlife, and what a story! Friends of the Ospreys also rung the two chicks, under the supervision of Adrianne Stratford, and Kelvin Jones (BTO Cymru) 4R female and W0 a male, Friends of the Ospreys would also like to thank Tony Ashton and Vivien Finn, and all the team from BGGW, for giving us the chance to ring at this iconic nest.


Returning Birds
The figures that young birds return is on the increase in the UK, In 2004 the return rate was 20%, and in 2014 it is 24%, With the rate young birds are returning, the Welsh Osprey population could increase by a new breeding nest every year from now on, and with lots of nests up already, we could soon have a viable population. The group will need more nests up further afield to accommodate these young birds, as the population increases



Darren Moore