| | |
| --- | --- |
| | The latest news from the group |
Some sad news to begin with, After 10 years and successfully raising seventeen chicks as the resident male on the BM nest, unfortunately the male did not make it back from migration this year, but his legacy will live on.

One of his chicks is now breeding at Kielder forest, Northumberland, hopefully more of his young will be breeding in the next few years. W6 a male bird from 2015 has spent his second year on a nest with a female with no ID rings.

In 2019 the nest failed due to the horrendous weather early in the season, and the pair being first time breeders with no experience. This year they have raised two very healthy chicks, darvic ring numbers 218 and 219. 219 has been seen in Portugal on the migration south in early September, things are looking really positive for this new breeding pair, see photo below.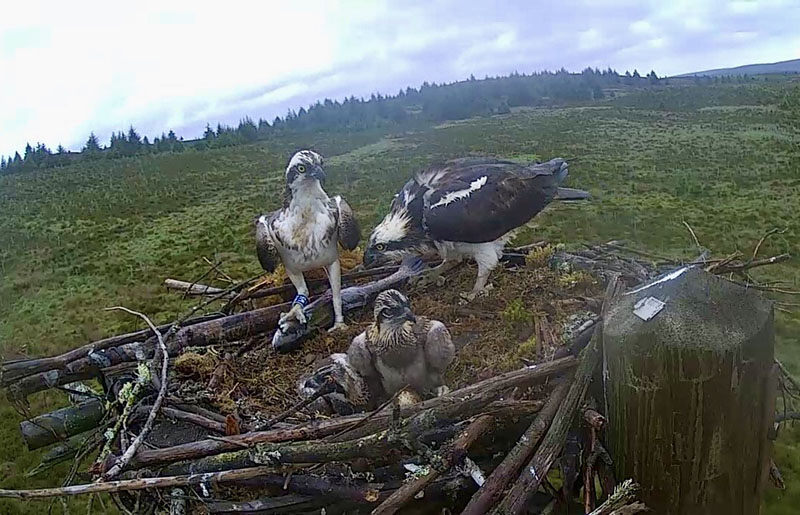 Credit Forestry England
The new male at the BM nest
Blue Z1, a 2016 bird is from a Welsh nest on the Dovey river. He built a nest with 5F in 2019 near the Dwyryd river, it was late in the season and never produced any young, the nest was blown out of the tree later that year.
We erected a nest for them later that winter, and in early April he was on the nest with the BM female until she went back to the BM nest, he soon followed her and have raised three healthy chicks two females and one male, letís hope we see them back in Wales in the coming years.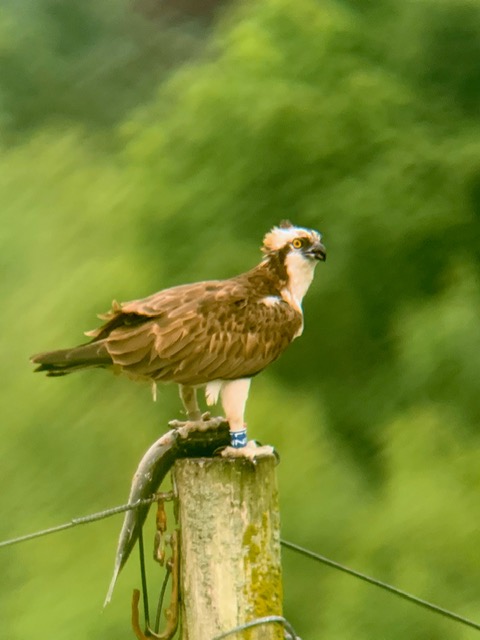 Birds on other nests
Blue 24 is now settled on a nest at lake Brenig near Denbigh Moors, after raising single chicks in 2018 and 2019, it looks like there will be one chick again this year. Blue 24 has been a very special Osprey for the group spending many years at other nests without success. 2018 was Blue 24s year pairing up with a male from another nest we erected, HR7 a 2014 bird born at a nest in lake Menteith, Stirling, was on a nest in Caernarfonshire for a few weeks in 2017 before finding Blue 24, the pair finally settled on a nest at Brenig lake.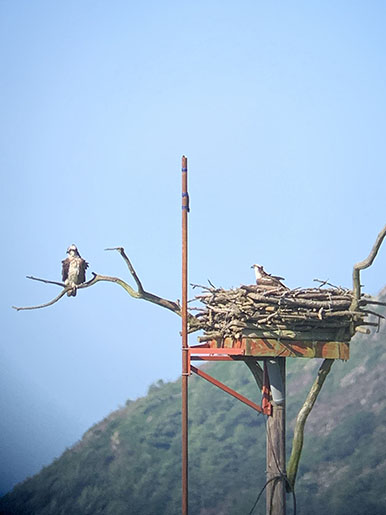 Blue 5F and Blue Z1 bonding on a nest in the Glaslyn valley in 2019



Another bird that was on other nests in the Glaslyn Valley, she is now nesting at lake Clywedog in mid Wales and have successfully raised three chicks, another special Osprey for the group and many more folk who are Osprey fantastics, 5F is seen every year in her wintering grounds in The Gambia, We are really pleased that she has finally settled down with an unringed male and hope she has lots of offspring in the coming years,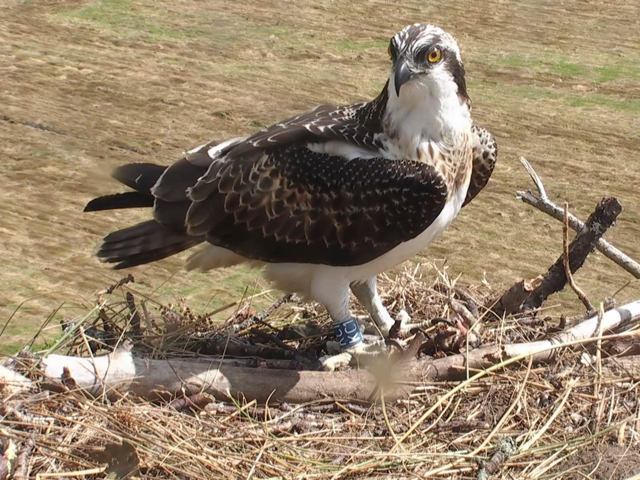 KC1
A male chick from the BM nest in 2019, He landed on this nest only weeks after fledging, fantastic photo letís hope we see him again on a camera somewhere

Glaslyn wildlife ( BGGW )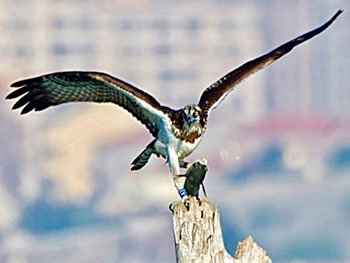 Another chick from the BM nest, X7 a female bird sheís the biggest chick of the three in 2017, seen here off the coastline of Portugal only weeks after leaving on her first migration, she stayed here for over a week.



Credit Paulo Domingues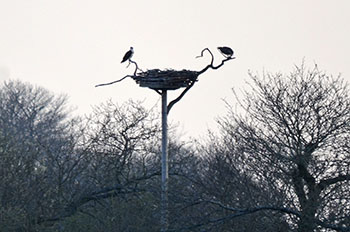 Blue 3J
Born in 2013 at Rutland Water Osprey project, pictured here on the left, on a nest in the Glaslyn valley in 2016 bonding with another Osprey.

3J has now settled at a nest on the Dovey river in mid Wales after Blue 12, the previous female failed to return, she already has two successful years behind her and has successfully raised two chicks this year




The Welsh Osprey population is doing really well. Thereís lots of single birds about at other nests moving around the nests in Wales. In the spring of 2020 three Ospreys from the breeding nests failed to make it back from migration including our very own male from the BM nest. Thereís lotís of other Ospreys waiting in the wings to take over these nests.

The male at the BM nest was soon replaced by Z1, the female at the Clywedog nest was replaced by our very own 5F, and an unringed male bird has taken over at the Dovey nest. Ospreys being replaced this quickly just shows how strong the population is here in Wales.

2019 was a big milestone for the Welsh Osprey population with the 100th chick fledging from a Welsh nest, with more Ospreys about year on year itís really important that we carry on with what we are doing to encourage more birds to Wales, we have lots of nests ready for a Ospreys, weíve lost count how many there are, but there not always in the prime spot, but never say never we erected a nest in 2006 with not a bird looking at it all these years and finally this year a young bird has shown an interest in it.

Nests that we have erected over the years are there solely for the Ospreys seeing them at high altitudes just to bring them down to the area, hoping that they like what they see with good fishing in the rivers and lakes and they stay in the area.